NEW ALBUM COMING 10/4/19!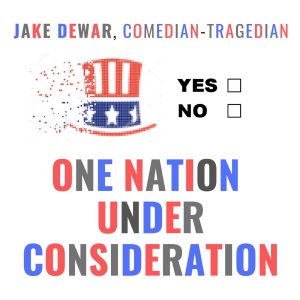 Jake's upcoming album "One Nation Under Consideration" will be available on all online music platforms starting October 4th!
Come see the live release show where Jake will perform the album in its entirety! Details below…
UPCOMING LIVE SHOWS
9/17/19 – The Annoyance Theater – 9 PM – Chicago IL
***10/4/19 – ONE NATION UNDER CONSIDERATION – The Album Release Show – 7 PM – Chicago Comedy Hour Studio – Chicago IL***

PODCASTS/WEB SERIES
J-Train
– The improvisational ramblings of the human mind!
Alfred: The Animated Series – A wonderfully dumb parody by Danny Schill.
Clerk & Dagger – A Machine Culture web series about the office of the Illuminati!
Jake also appeared as a guest on A Brew With You and Sleeping With Sarah!