NEW SINGLE!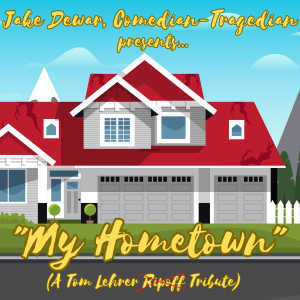 Satirical songwriter Tom Lehrer released his music into the public domain, which means Jake is cashing in for a quick buck…er, paying tribute via a cover. Check out the music video here or click the picture above!
UPCOMING LIVE SHOWS
Satirical Saturdays are postponed until further notice. Feel free to follow Jake's Twitch channel for updates on when the show returns!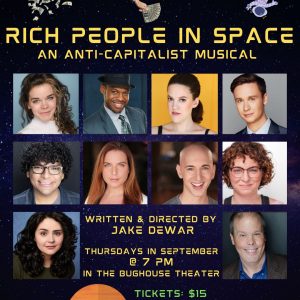 RICH PEOPLE IN SPACE: AN ANTI-CAPITALIST MUSICAL
Written and directed by Jake Dewar
The Bughouse Theater @ 7 PM on September 7, 14, 21 and 28
"In the not-too-distant future, as the Earth's resources decline, billionaire Maxwell Pedestal has funded a new project to colonize Mars. Unfortunately, the only ones who can afford to go are the wealthy elite, and a new employee discovers this space station may not be what it seems."
Ticket link coming soon!
Cast: Katy Campbell, Kamron Palmer, Natalie Younger, Liz Falstreau, Matt Keeley, Jennifer Stuart, Licinio Garcia, David Elliott, Donovan Mullings, Jacque Bischoff
Music Director: Robbie Ellis
Choreographer: Becca Schwartz
Stage Manager: Charlotte Breanne Brown
Costumes/Props: Jamie Brouillette
Vocal Coach: Rachel Williams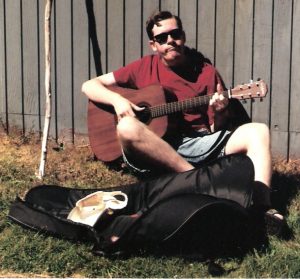 COMEDY SHOWS:
6/16 – Solo Set – Bughouse Theater @ 10 PM – Chicago IL
UPCOMING STUDIO ALBUM!
Jake is currently in the recording phase for a new album of comedic pop songs! Working title is "Unpopular Playlist." Release date TBD.

PODCASTS/WEB SERIES
J-Train
– The improvisational ramblings of the human mind!
Alfred: The Animated Series – A wonderfully dumb parody by Danny Schill.
Clerk & Dagger – A web series about the office of the Illuminati!
Jake has also been a guest several times on A Brew With You!