NEW SINGLE OUT 8/3/22!
NEW ALBUM!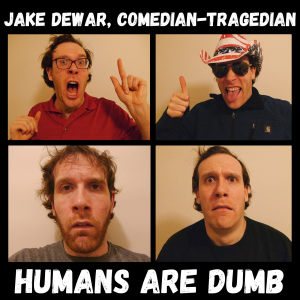 Jake's new studio album "Humans Are Dumb" is now available for download and streaming at online stores!
Check out the FULL ALBUM STREAM on Youtube now!
UPCOMING LIVE SHOWS
Jake is not doing shows in person right now, but will be live streaming on Twitch throughout the summer!
Check back for updates or join the mailing list below to stay informed.
NEW AUGUST SHOW! – 8/27/22 – Twitch Stream at 1 PM CST– 1 HOUR SET

PODCASTS/WEB SERIES
J-Train
– The improvisational ramblings of the human mind!
Alfred: The Animated Series – A wonderfully dumb parody by Danny Schill.
Clerk & Dagger – A web series about the office of the Illuminati!
Jake has also been a guest several times on A Brew With You!