NEW SINGLE!
Jake has an EDM single about the wonders of modern technology, for better and for worse (mostly the latter). Check out the music video above!
NEW ALBUM!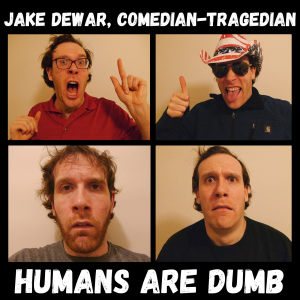 Jake's new studio album "Humans Are Dumb" is now available for download and streaming at (relatively) all the online stores!
Check out the FULL ALBUM STREAM on Youtube now!
UPCOMING LIVE SHOWS

SATIRICAL SATURDAYS – WEEKLY LIVESTREAM CONCERTS!
In an effort to get his voice and guitar chops back in shape in 2023, Jake will be doing live stream concerts every Saturday at 2 pm CST on Twitch! You can expect original music, covers, and whatever the hell else Jake decides to do. Click here to visit his Twitch channel!
LIVE COMEDY SETS:
2/14 – Power Couples of Comedy – The Bughouse @ 8 PM – Chicago IL
Jake is playing comedic love songs with Kelly Opalko, his beautiful wife!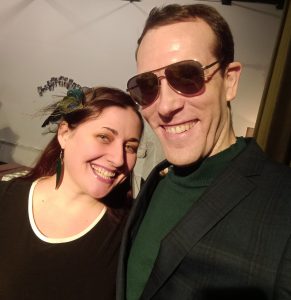 2/21 – Clever Comedy Show – The Lincoln Lodge @ 10 PM – Chicago IL
A short solo set of new and newer songs!
2/28 – Tuesdays at 9 – The Annoyance Theater @ 9 PM – Chicago IL
Short acoustic set for an evening of original theater/screenplay readings!
3/17, 3/31, 4/14 & 4/28 – An Other Musical – Otherworld Theater @ 10 PM – Chicago IL (Jake's on guitar in a live band for a fully improvised musical!)
4/19 –  Solo Set – My Buddy's @ 7:30 PM – Chicago IL
UPCOMING STUDIO ALBUM!
Jake is currently in the recording phase for a new album of comedic pop songs! Album title and release date TBD.

PODCASTS/WEB SERIES
J-Train
– The improvisational ramblings of the human mind!
Alfred: The Animated Series – A wonderfully dumb parody by Danny Schill.
Clerk & Dagger – A web series about the office of the Illuminati!
Jake has also been a guest several times on A Brew With You!